Brick, Mortar & Mobile: Supercharge Sales with Omnichannel Marketing
The disruptive impact of Covid-19 on physical retail is undeniable. Already reeling from the ever-growing popularity of online shopping, the closure of retail stores combined with restrictions on face-to-face engagement have created an uncertain future for the physical shopping experience. These abrupt changes have left most retailers and marketers frantically attempting to connect with their customers through other channels.
Adapting Your Brand's Marketing Strategy for a Post COVID-19 World
The global pandemic has led to dramatic shifts in consumer behavior. Retailers and marketers have had to adapt quickly in order to continue delivering an engaging customer experience that not only reaches new customers but remains relevant to the most loyal ones.
Retailers that have pivoted quickly and developed an omnichannel marketing strategy that reimagines the complete end-to-end customer experience have more easily weathered the challenges posed by the pandemic and will recover faster after its end. According to McKinsey, retailers that focused their efforts on consumer experience in the recession of 2008 endured less financial downturn, rebounded more swiftly, and achieved higher returns compared with the market average.
Engaging Customers on Their Terms: The Omnichannel Marketing Strategy
Although physical retailers have been losing ground to online retailers for years, the pandemic has accelerated that trend and eliminated many brands without a well-developed direct-to-consumer presence. The pandemic has shown us that it is more important than ever to connect your physical properties with your digital properties through an omnichannel strategy.
Omnichannel refers to the cross-channel dissemination of your content across multiple communication avenues that are designed to support each other rather than exist in parallel silos. Not only does this allow you to cross-sell your products and/or services, but it also provides more opportunities to upsell. It is critical that you view every marketing tactic as part of a larger strategy that engages your customer in a meaningful way.
Many companies are enjoying retail success even in the midst of the pandemic through the use of QR codes, a digital tool that bridges the physical and digital experience. After falling out of favor for some time due to the need to download a dedicated application,QR codes are making a comeback as they are now natively scanned by your smartphone camera. According to Stastistica, in September of 2020 31% of people in the United States had scanned a QR code in one week's time. Sources estimate that by 2023, smart packaging will be a staggering $7.56 billion industry. QR codes allow customers to easily access a brand's website where they can learn more about the product or access a brand's social channels where they can connect to a community of people with similar tastes and interests. The Obama administration even passed a law requiring QR codes for GMO ingredients and nutritional information on packaged foods. Ralph Lauren is a great example of a company using QR codes, adding the codes to their apparel to provide garment authenticity, details about the product, styling advice, and offer an ongoing resource post-sale. In addition, the QR codes and the metrics they provide allow you to track your customers as they move throughout the sales cycle, offering the opportunity for continual optimization of that process.
In an omnichannel strategy, emphasis should be on creating a memorable in-store experience linked to digital experiences via QR codes. For example, a compelling stand-alone floor display for a bottle of wine liberates the bottle from the shelf, engages the customer on the retail floor, and provides an area of opportunity for a QR code with a clear call to action to one of the brand's digital offers or brand content. Strategize ways to create a seamless experience for your customer along their buying journey—from in-store displays to your website and social channels. It is no longer "just" a passive retail display, but an opportunity to nurture your relationship with your customer and drive traffic to your website.
Consider This: Try adding QR codes to your retail displays. Strategic merchandising with these codes offer a frictionless method to transition customers into the digital world and take advantage of ongoing campaigns and promotions where they can move further down the buying funnel and eventually into your brand's ongoing social or email marketing campaigns.

Design Retail Environments That Engage
The pandemic has consumers reconsidering the amount of time they are willing to spend in physical locations. This has forced brands to reassess the profitability of their retail stores. While the pandemic created a surge of online retail activity with more than one-third of consumers shopping online weekly, according to a new report, 91% of consumers say that during the pandemic, they've missed the in-store retail experience.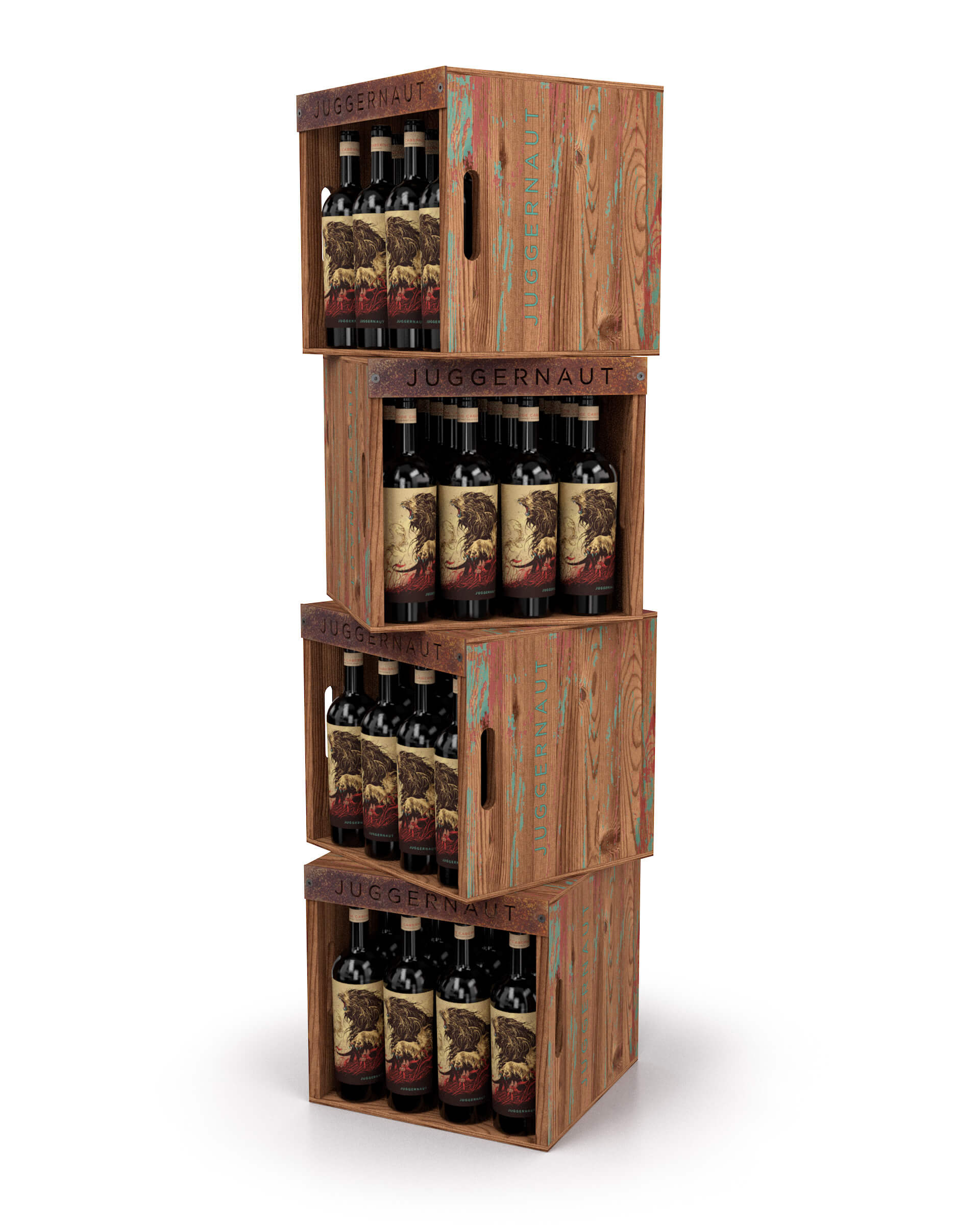 Custom modular retail display for Juggernaut
As our public spaces begin to reopen this year, reevaluate how your physical presence supports your retail channel teams. For example, modular retail displays, like the one Affinity created for Juggernaut, can be quickly scaled in size to fit the requirements of almost any retail environment. Additionally, they are easy for the retailer to erect and modular displays allow retailers to adapt to changing store set needs. By providing your retailers with well designed modular displays with flexible footprints and premium, on-brand materials, your brand is more likely to be showcased by the retailer, driving customers to your product.
Another tactic business can use to maximize retail sales in-store is to enhance the customer experience by eliminating lines and wait times. Irisys found that "Americans will abandon a checkout line and leave a store without making a purchase after eight minutes of waiting in a checkout line," while Forbes.com contributor, Barbara Thau says that for brick-and-mortar stores to increase sales, they have to "banish the wait in line, once and for all."
Consider This: If you're struggling with long lines on the sales floor, a mobile POS system can expedite check-outs. Mobile POS solutions will allow you to untether the checkout process, so your sales team can process sales from anywhere in the store.
Getting Personal With Digital Marketing
Consumers' needs are changing in response to the pandemic and its restrictions. When it comes to retail, brands that take these needs into account in their marketing campaigns will perform better than those with generic marketing messages.
Personalization in marketing is about customizing your messaging to accommodate specific audiences, customers, or specific segments of your audiences and customers. For example, the benefits of a quarantine-specific promotion such as 20% off all curbside pick-ups provide a solution to safety concerns, and the discount acts as an additional incentive for customers to make a purchase.
When creating personalized content marketing campaigns, use data you've collected about your customer base to create more effective messaging, promos, products, and events. Take into account the shift in how your customers are living their day-to-day lives and the impact it has had on their purchasing habits. If you do this, not only will you increase customer satisfaction, you will also improve customer retention. Consider This: Social media management (SMM) tools such as Hootsuite or Sprout Social allow you to organize, analyze, and optimize your social media efforts.
How Omnichannel Marketing Benefits Customer Experience
For brand owners, the appeal of omnichannel marketing is clear: To reach customers in the moments when their purchase intent is highest, whether it is on the retail floor or online. For customers, it creates a seamless shopping experience based on their behavior which dictates what they see, how they see it, and where they see it. Delivering a personalized, streamlined, and relevant experience which spans physical and digital channels can be a key ingredient to a brand inspiring lasting loyalty amongst its customers.
Although no one knows when the adverse effects of the pandemic will release its stranglehold on physical retail, it is clear that many customers miss the rich, sensory experience of shopping in-store. High-performing brands such as Apple and Restoration Hardware understand the power of well-designed retail spaces and their role in consummating the customer relationship. Imagine combining that type of physical retail experience with the best practices of permission-based digital marketing. One where anticipated, personal, and relevant digital messages come across like thoughtful notes from a close friend. In the end, great brands are like the best of friends – the ones we reward with our loyalty.
Looking To Reimagine The Physical & Digital Retail Experience For Your Customers?
Affinity Creative Group's award-winning team of experts design dynamic retail environments both on- and offline from a customer-first perspective. We are always interested in hearing about the challenges you're facing and are ready to help you innovate the way forward. Please reach us here to schedule a consultation.
About The Author: Christopher Hayes is a Creative Director at Affinity Creative Group. Over the last two decades, he has helped brands create impactful customer experiences that connect physical and digital channels. His passion is helping purposeful brands innovate new ways to deliver customer delight.