The Secret Behind Craft Cocktails
By Jonathan Potts
As the craft spirits industry continues to gain momentum, the modern day mixologist plays a large part in developing new unique cocktails that showcase these craft spirits and their interesting accoutrements. With added brands and barriers to entry due to this momentum, mixologists have more to choose from than ever. This is an opportune time for brands and bartenders all over the country to find the perfect addition to their cocktails, and the greatest response to this demand is a great resurgence for producers of cocktail bitters.
What exactly are bitters?
Bitter is one of the five major flavors that your tastebuds identify along with sweet, sour, salty and umami. They have been used medicinally for hundreds of years for digestive ailments and were developed as patent medicines in the 1800's (typically marketed as "tonics" back then). Bitters contain a combination of botanicals – traditionally herbs, spices, flowers, barks and roots which are steeped in alcohol to create a complex and extremely concentrated liquid to be consumed on its own or added to different drinks like tea, juice, coffee and sparkling water. They just so happen to be excellent in a cocktail as well (but I add bitters to almost anything I am drinking).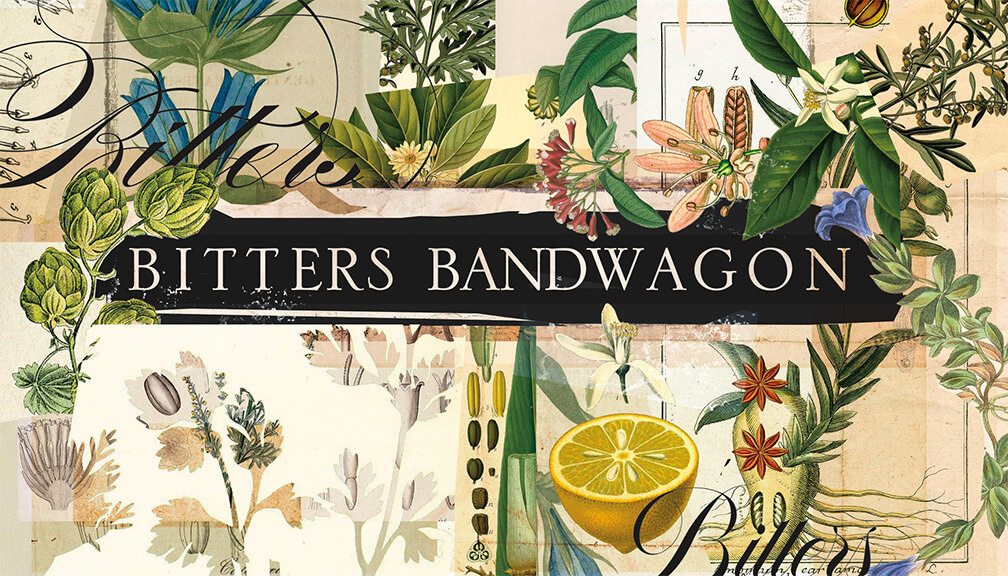 I ventured into the craft-spirits world seven years ago and have been handcrafting my own bitters for about the same amount of time. With a love affair for gin, I discovered that I really enjoyed Campari, a main ingredient in the classic Negroni cocktail, and not just in the cocktail, but on its own, or simply in soda water. I then started to explore other aperitifs such as Amaro and Cynar, and after learning about some of the ingredients used in these bitter aperitifs I decided it would be fun to make a version of my own. Since I have experience as a home brewer and avid gardner it was natural for me to imagine concocting my own bitters recipe. I've found the process of growing the herbs, harvesting them and crafting my own unique flavors from them extremely satisfying and to this day continue to amaze guests with my rare bitter formulas such as kumquat and hops. Not to mention my coworkers love when I bring in a fresh batch to share for a casual spring-time afternoon cocktail.
There are tons of bitter brands in the market, each with their own take and speciality. If this warm weather's got you feeling adventurous, here's a recipe you can create at home and share with your friends.

My Take on the Classic Orange Bitters Recipe
2 cups grain alcohol
Zest from 4 organic oranges (making sure to avoid the white pith)
5 whole cloves
1 whole Star Anise
1 Cinnamon stick
1 inch ginger ( shredded )
10 cardamom pods
1 teaspoon Gentian Root
1 teaspoon Wormwood
Simply infuse the botanical ingredients in a neutral base spirit such as grain alcohol at room temperature in glass jar. Shake daily and wait a month. Then strain the solids from the liquids and store in a dark bottle in a cool dry place (side note – alcohol with a high-proof is more effective at extracting the flavor).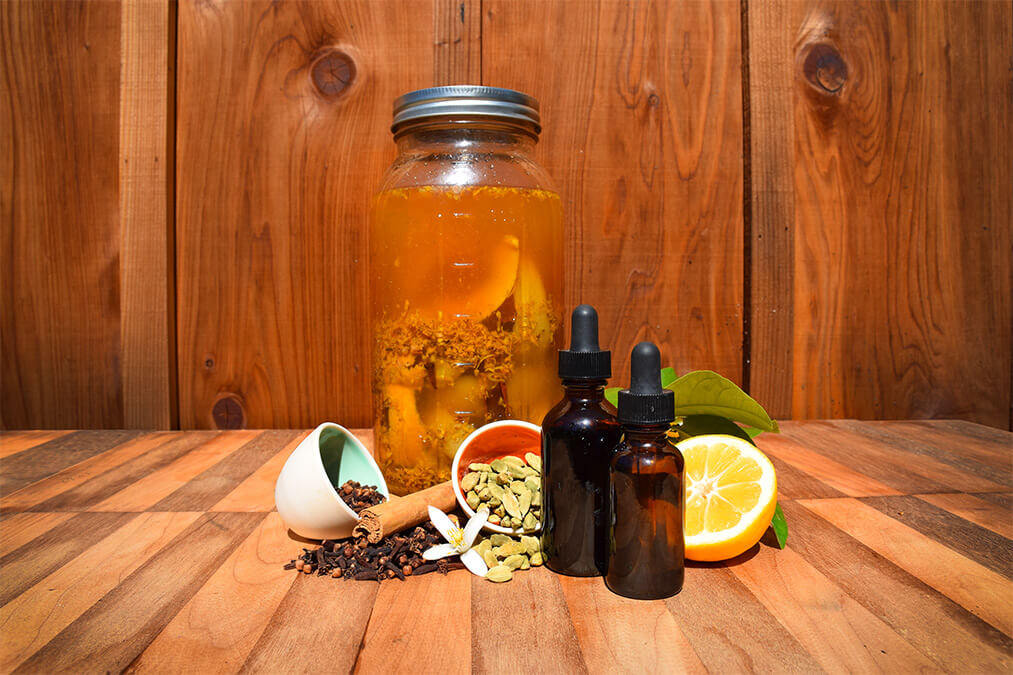 Jonathan Potts is a designer with Affinity Creative Group for over two years. He comes from NYC where he worked for almost a decade in the advertising world focusing on the spirits industry. After some time spent traveling, he felt compelled to move into the next chapter of his story and career. California along with wine and spirits packaging beckoned him as his next adventure and he has been enjoying the lifestyle ever since. With a background in illustration and a passion for gardening Jon has a lot of creative energy to bring to the table.