5 Ways to Increase Sales With In-Store Displays
Let's face it, most CPG brand owners are fighting an uphill battle to drive consumer trial in a crowded retail environment. As shoppers 'mask up' to head to their local retailer with a specific shopping goal, it is getting harder and harder to stand out on the shelf. 'Get in, get out and get home – safely' is the new mantra when heading to the store to replenish the family pantry. While retailers are trying to anticipate demographic shifts in shopper behavior and the long-term impact of the shift to DTC sales, savvy brand owners would be well served to remember an old friend to introduce them to new consumers, the venerable and time-tested retail display.
A well-designed, brand-relevant in-store display allows brands to target new customers, draws attention, inspires discovery, and complements all other marketing channels.
Unfortunately, despite the stopping power retail displays provide, many brand owners underutilize this key marketing tool in brick and mortar stores. Below, you'll find five easy and efficient ways to deploy and improve the use of in-store retail displays for increasing sales. When properly leveraged, the displays truly pay for themselves with real ROI.
1 Location, Location, Location!
What is true in real estate is true in the retail experience. Shoppers in the grocery channel are creatures of habit and tend to be on a mission when shopping – especially these days. An attractive display that is well placed to offer a highly visible 'destination' in-store will reach a broad and diverse demographic and motivate impulse buyers to action. A well-placed display will gently disrupt the planned routine of a busy shopper and provide the gentle favor of an introduction to your worthy brand. Granted, many retailers have become prescriptive when it comes to retail displays these days. Winning programs should consider offering multiple options for retailers to participate in your seasonal or flow programming. Make it easy for them to approve your display in-store by offering more than one size and footprint before your next pitch.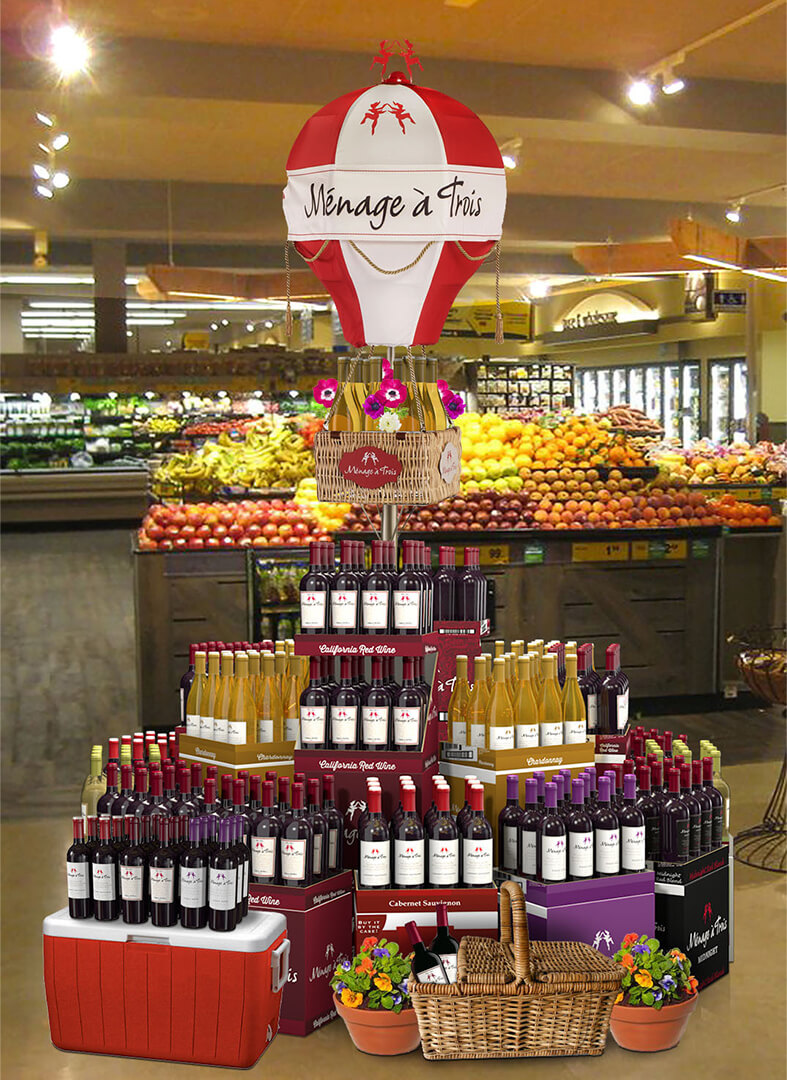 2 Messaging Matters
A year into the Covid-19 pandemic, we're all getting tired of the 24-hour news cycle and its onslaught of despondency and despair. As vaccine distribution takes place and with the inevitable return of consumers slogging back to retail environments, try to offer an uplifting message and vibe that evokes our shared values, tickles the funny bone, and touches the heart. While maintaining brand values and major program themes, the inclusion of family, friends, home, outdoors, and the sharing of experiences are tried and true approaches that remain appealing. Making an emotional connection is critical to the success of any messaging. Regardless of brand or category, messaging must be simple, quick to read, and spot-on. Not enough energy goes into the impact of proper messaging and how a retail program can encourage a call to action. An ideal retail display program takes elements of a brand's social media messaging and other touchpoints into consideration to convey a cogent argument for your brand deserving a spot in the consumer's cart. Properly thought out, you can utilize display messaging to encourage discovery and insider experiences, to reinforce a value proposition, or incentivize consumer loyalty.
You have a great brand. Now all you need to do is to offer the opportunity for your prospective new consumer to discover it and hear its voice.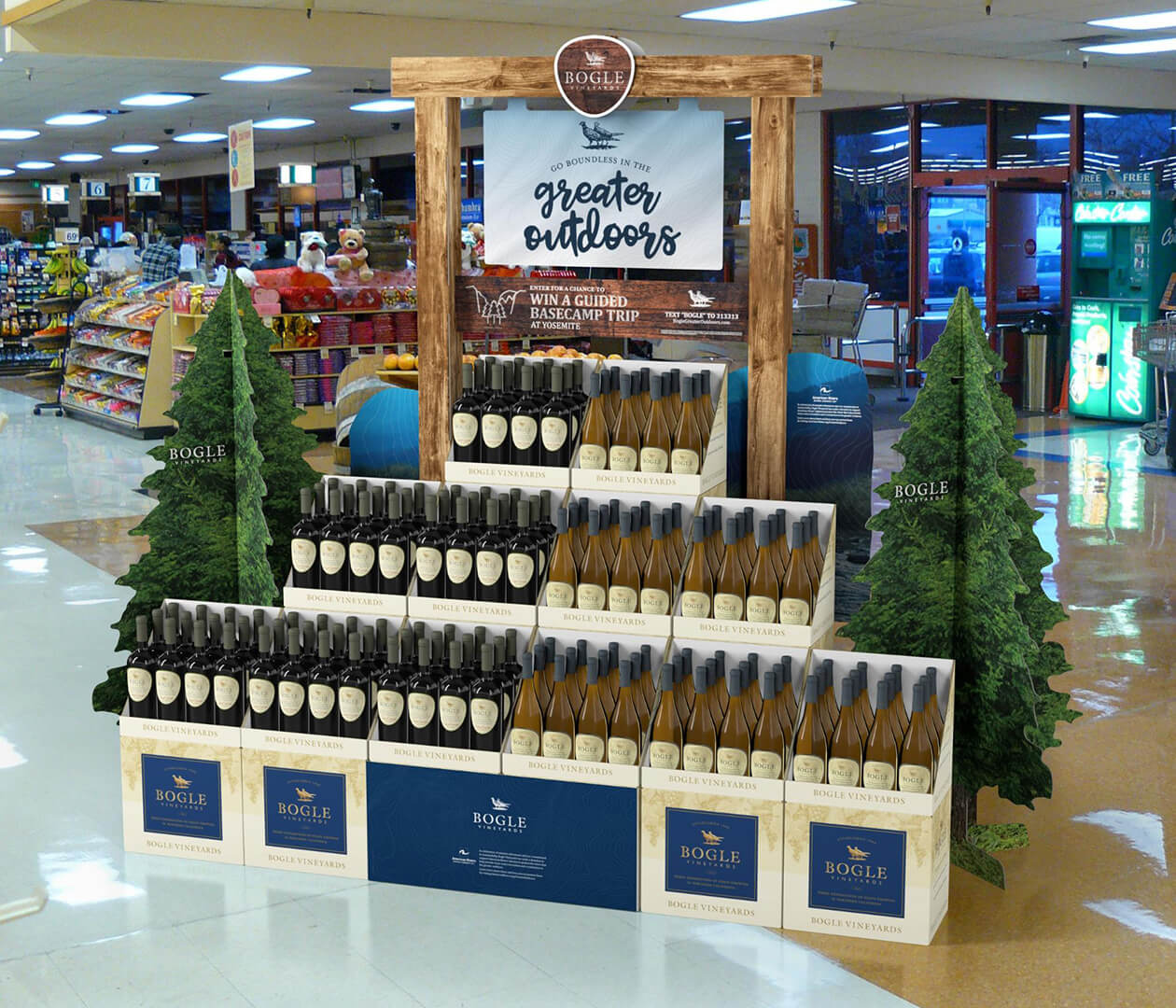 3 Design Is Everything.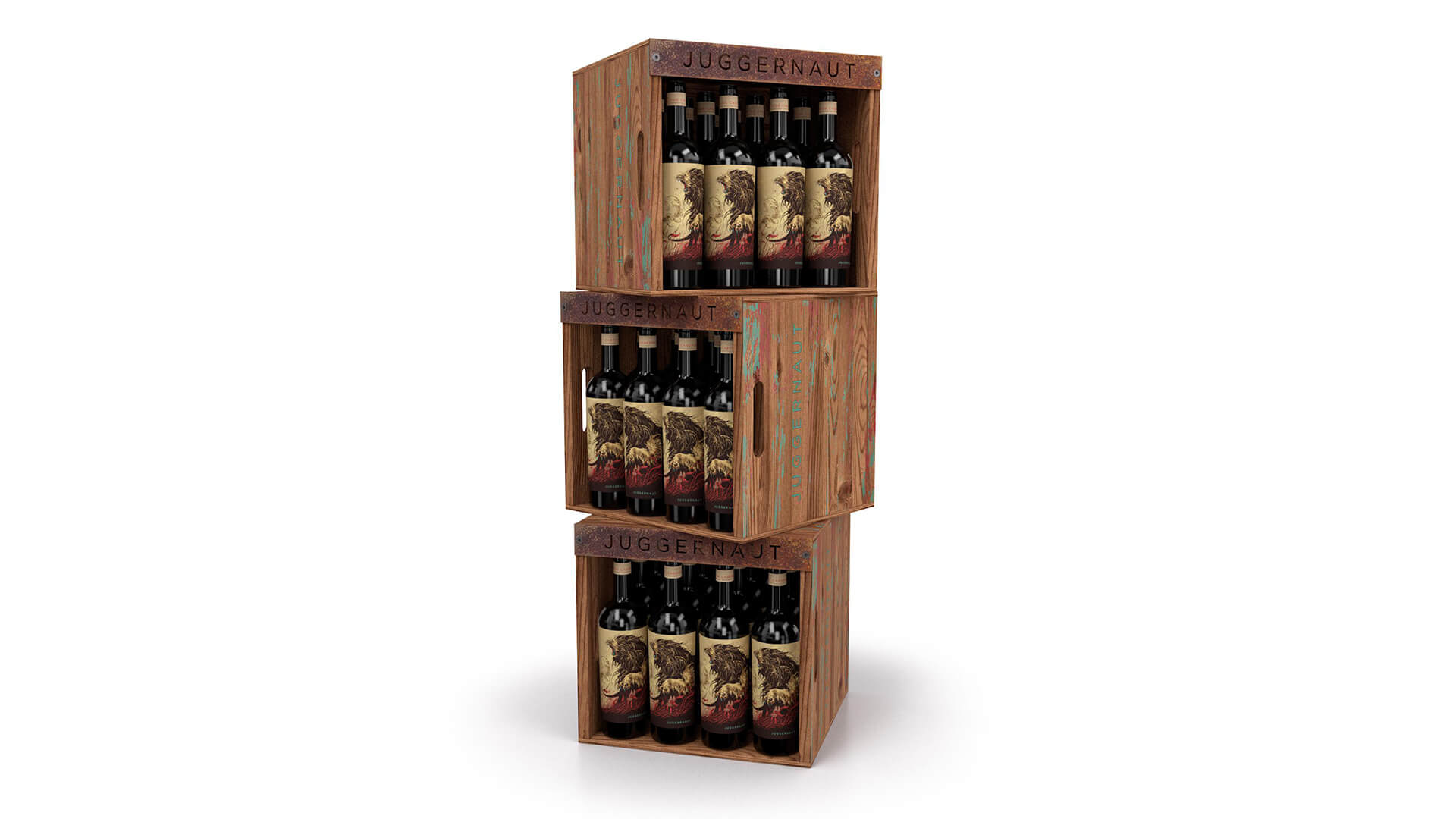 You don't always need to shout in order to get attention at retail. As noted earlier, many store chains have strict guidelines on maintaining open sightlines and avoiding excessive clutter.  Retail displays can maintain effectiveness by embracing these rules. Taking a subtle design approach while letting the display elements convey confidence and brand ethos will speak volumes for your brand.  Think of the display as a semi-permanent branding device that if executed appropriately, will be welcomed in the store environment by retailers and retail customers alike. No store owner wants the floor to be 'taken over' by a single brand and no consumer wants to be sold to. When in doubt, keep the branding subtle, yet seasonally appropriate and let the display design, materials, and messaging earn placement in the store. If budget permits, the use of mixed materials in your display structure provides an extremely attractive and upscale look. Particularly appropriate for premium brands, the addition of even a modest amount of wood pieces to a metal or corrugated retail display warms up the visual appearance, cues quality, and projects a pleasing effect.
4 Consider Modular Displays for Longer Life In-Store.
In today's environment, neither retailers, distributors nor brand execution teams want to spend an hour unpacking, assembling, and installing a complex in-store display. Especially if the retailer has already allocated the space for a competitor's brand in your preferred location for the season. If you find yourself in this position, there is still a way for your product display to be enthusiastically embraced by all channel members:  design with retail convenience and flexibility in mind. The use of a modular approach will save time, counter any assembly objections, and will be welcomed on all fronts. Retailers love the flexibility. A modular display that offers options for footprint and function and can be dressed up seasonally can last in-store as a 'flow' piece up to a year or more.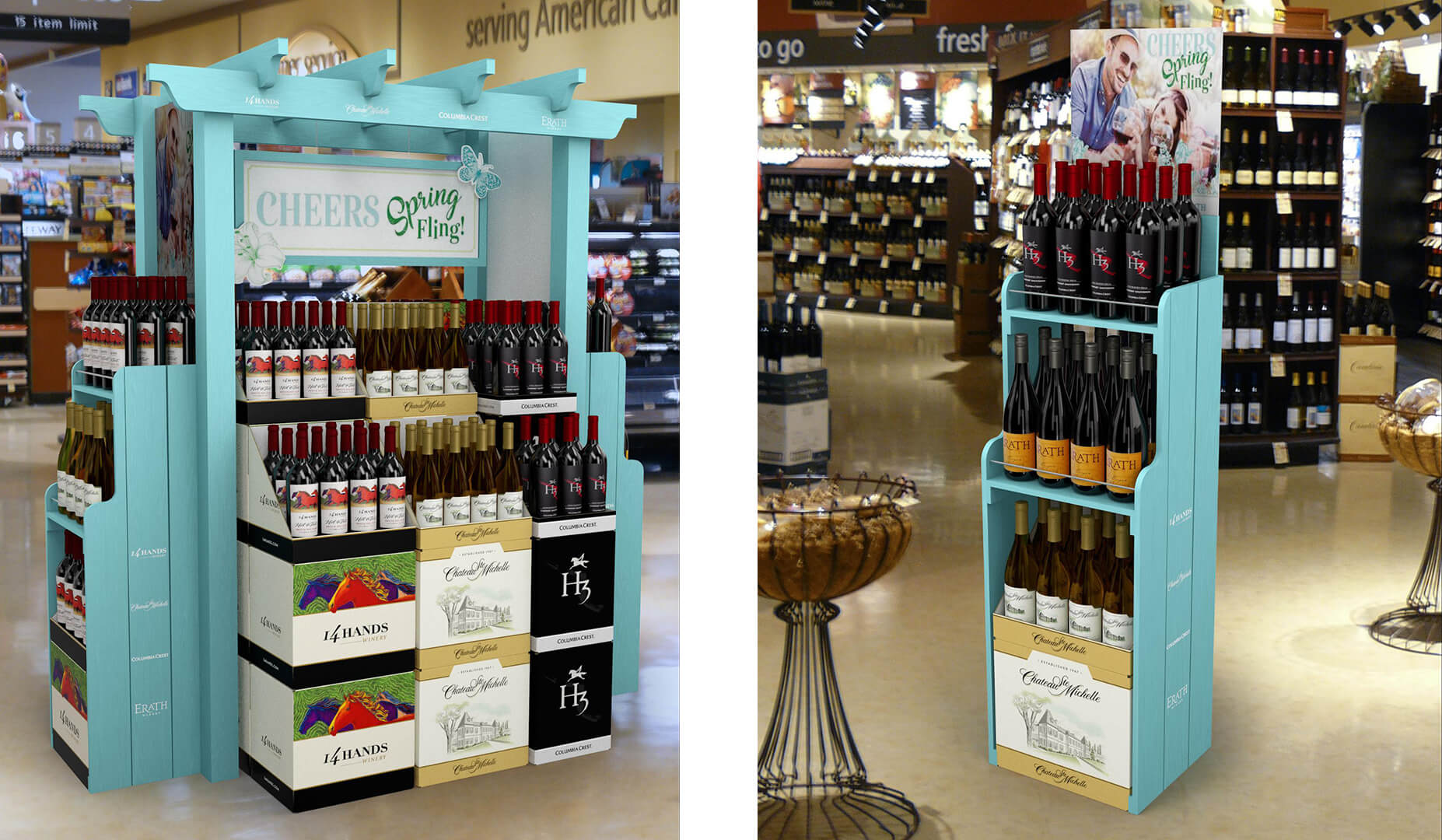 5 Cross-Merchandising Can Spark Impulse Buying
Don't neglect cross-merchandising opportunities for CPG products, especially in the food and beverage space. Rather than dilute your brand, when well-executed, a cross-merch program with premium partners can raise your brand standing in the marketplace.  Retailers will certainly take notice, as cross-merchandising has been proven to increase average shopping cart value (AOV). Consumer convenience plays an important role in a well-thought-out cross-merch program. Today's harried consumer may appreciate the option of picking up several key ingredients for an upcoming meal that wasn't even top of mind until they discovered your well-placed program.  Any well-designed retail display that embraces and accommodates synergistic brands will drive more sales for both participants, deliver greater value to the retailer and is sure to land you the next seasonal placement, (instead of your competitor)!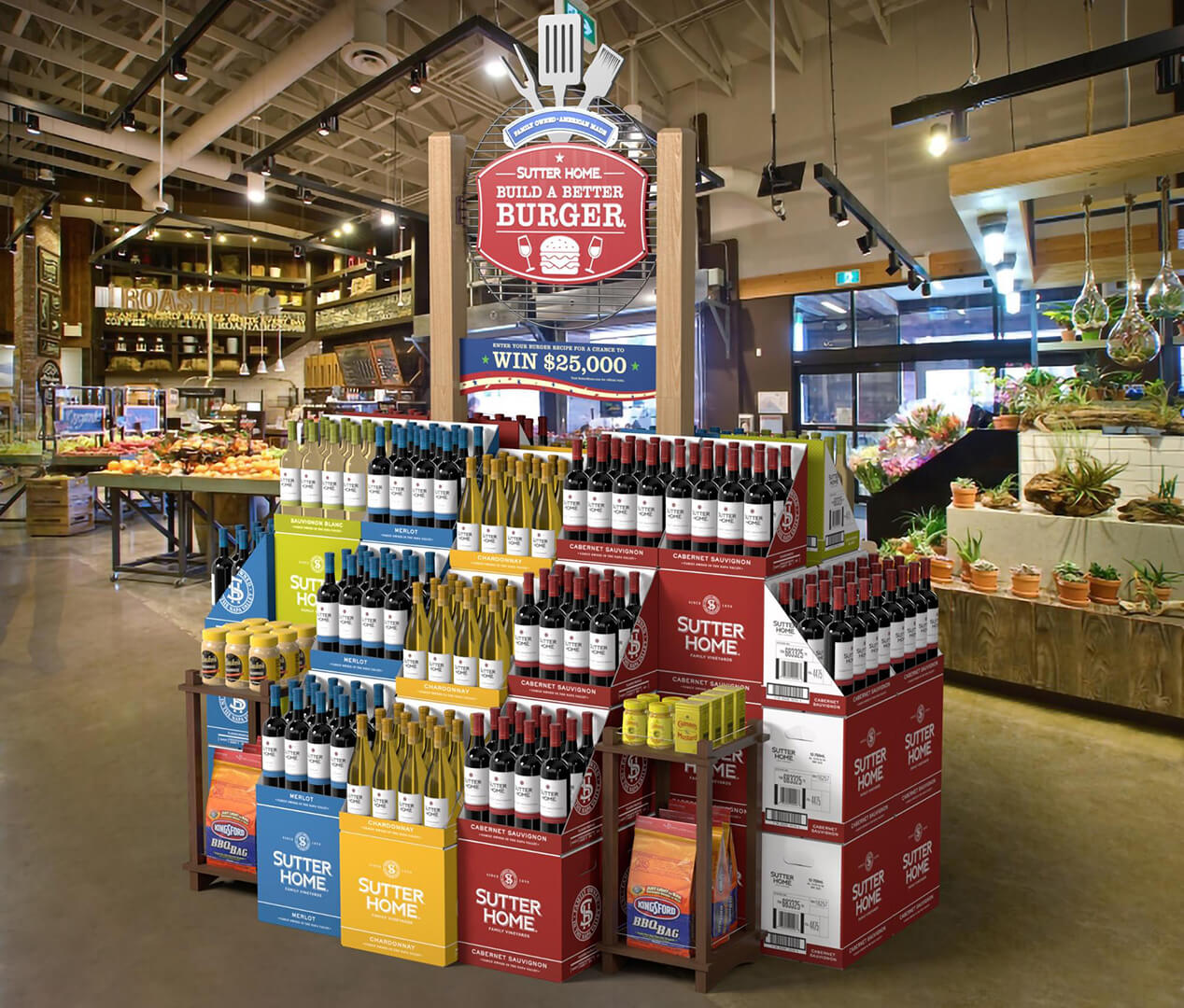 Drive Sales With Creative In-Store Retail Displays
To sum it up, in-store retail displays still remain an essential marketing and selling tool in the brick-and-mortar environment. With all the talk of Customer Acquisition Cost (CAC) as it relates to your online initiatives, don't forget that retail is still the most intimate of opportunities for the consumer to actually pick up your product in real-time. That is what I call measurable ROI.
Do You Need Help Creating In-Store Retail Displays That Drive Sales?
Affinity Creative Group's talented retail activation and brand promotion teams can help you engage customers and move products through custom integrated marketing programs and award-winning product displays. Get in touch and let's make some magic together.
About The Author: John Swain has dedicated his career to building world-class brand experiences through custom packaging, digital media, and retail promotion. John is the President and CEO at Affinity Creative Group, a unique creative agency that provides brand design, digital media, and retail activation marketing services, particularly for wine, spirits and other luxury categories, and packagingarts, a premium packaging and manufacturing services provider.