Delicato Gets More Gnarly With Affinity Creative Group
Launched in 2005, 'Gnarly' (as known by its fans) achieved the top 50 American wine brand status and recognition as the #1 Zinfandel in the country. But about two years ago the brand plateaued and lost a bit of volume, in spite of various marketing moves.
In mid-2019, Delicato engaged Affinity Creative Group to return the brand and its label to its original glory while remaining relevant to today's consumers and of course, regain sales momentum.
After assessing the brand's equities, Affinity sought to achieve the perfect balance of orange and copper tones on the label; while adding dimension, depth and artistic drama to the illustration of the iconic, free-standing, head-trained old vine.
Since launching the new look of the old 'Gnarly,' the brand is showing a positive trajectory. In the words of Chris Indelicato, President and CEO, Delicato Family Wines, recently interviewed in Shanken News Daily, "It's hard to believe a packaging change could be that impactful, but the brand is now growing again."   
Affinity's appreciation of visual brand equities, the importance of brand essence and the need for shelf impact, converged to create a new bold, memorable and irresistible 'Gnarly' look for the Gnarly Head brand at retailers from coast to coast.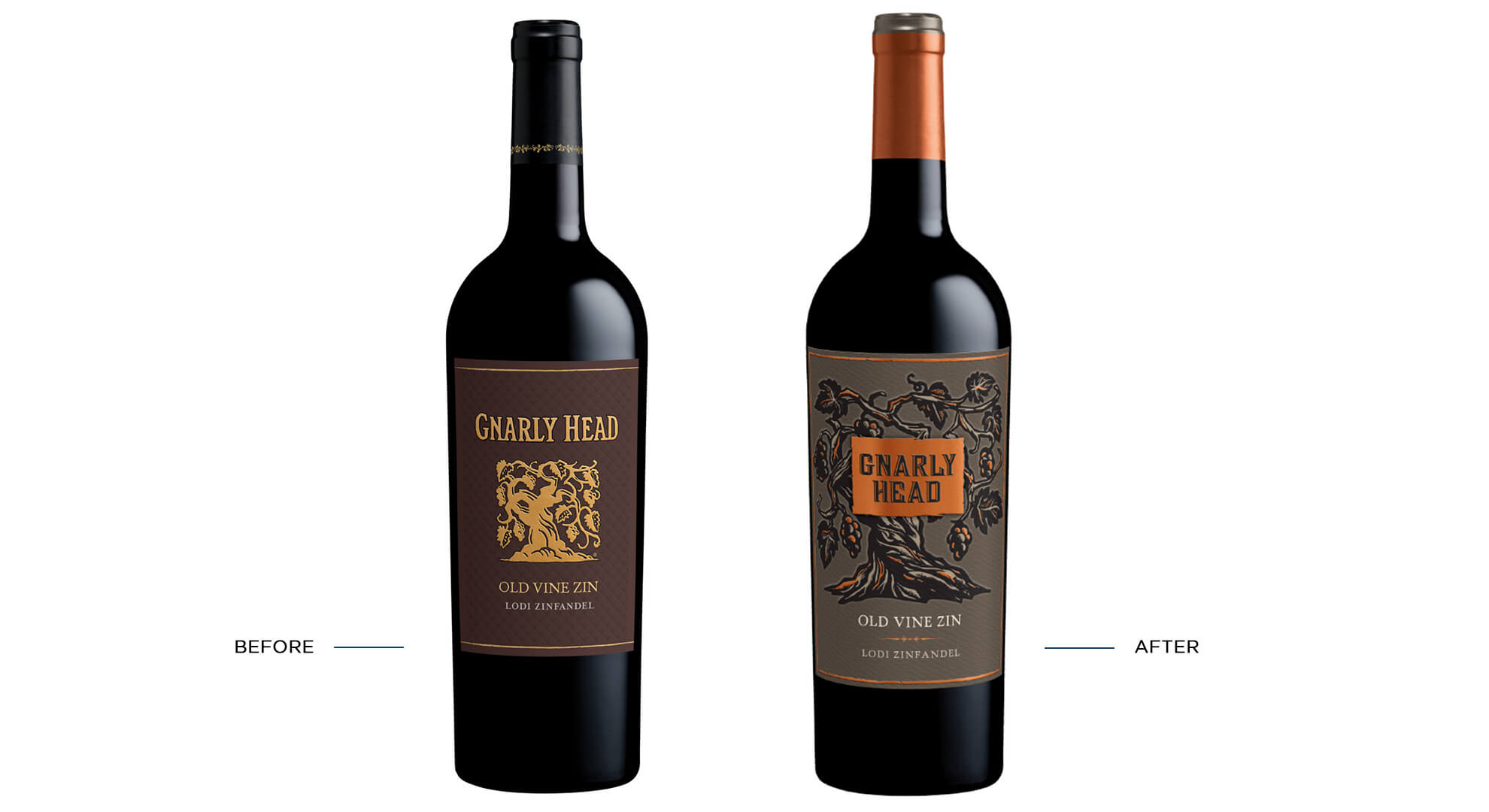 About Affinity Creative Group: 
From our unique creative campus, (two mansions and a bungalow), along historic officer's row on Mare Island, California, Affinity Creative Group provides brand design, digital media and retail activation marketing services, particularly for wine, spirits and other luxury categories.  The most experienced team in the business, staffed with knowledgeable industry professionals, provide strategic, creative and effective solutions that attract attention, spark interest and win customer loyalty in tasting rooms, on-premise and at retail venues across the country and around the globe.  Affinity helps clients of all sizes connect with consumers at the early, essential moments of contact, or points of 'brand touch' through the intelligent use of creativity, captivating storytelling, and flawless implementation. For more information about Affinity Creative Group, please visit: AffinityCreative.com or call 707.562.2787. 
About Delicato Family Wines: 
Delicato Family Wines is one of the fastest growing wine companies in the U.S., and a family-owned winery with nearly a century of history of farming grapes in California and of crafting superior quality wines. Anchored by a long-term focus, the Indelicato family has infused their culture of integrity, hard work, and high standards into the fabric of the dynamic wine company they've built.