Not Just Another Buzzword: 360° Marketing Builds Business & Brand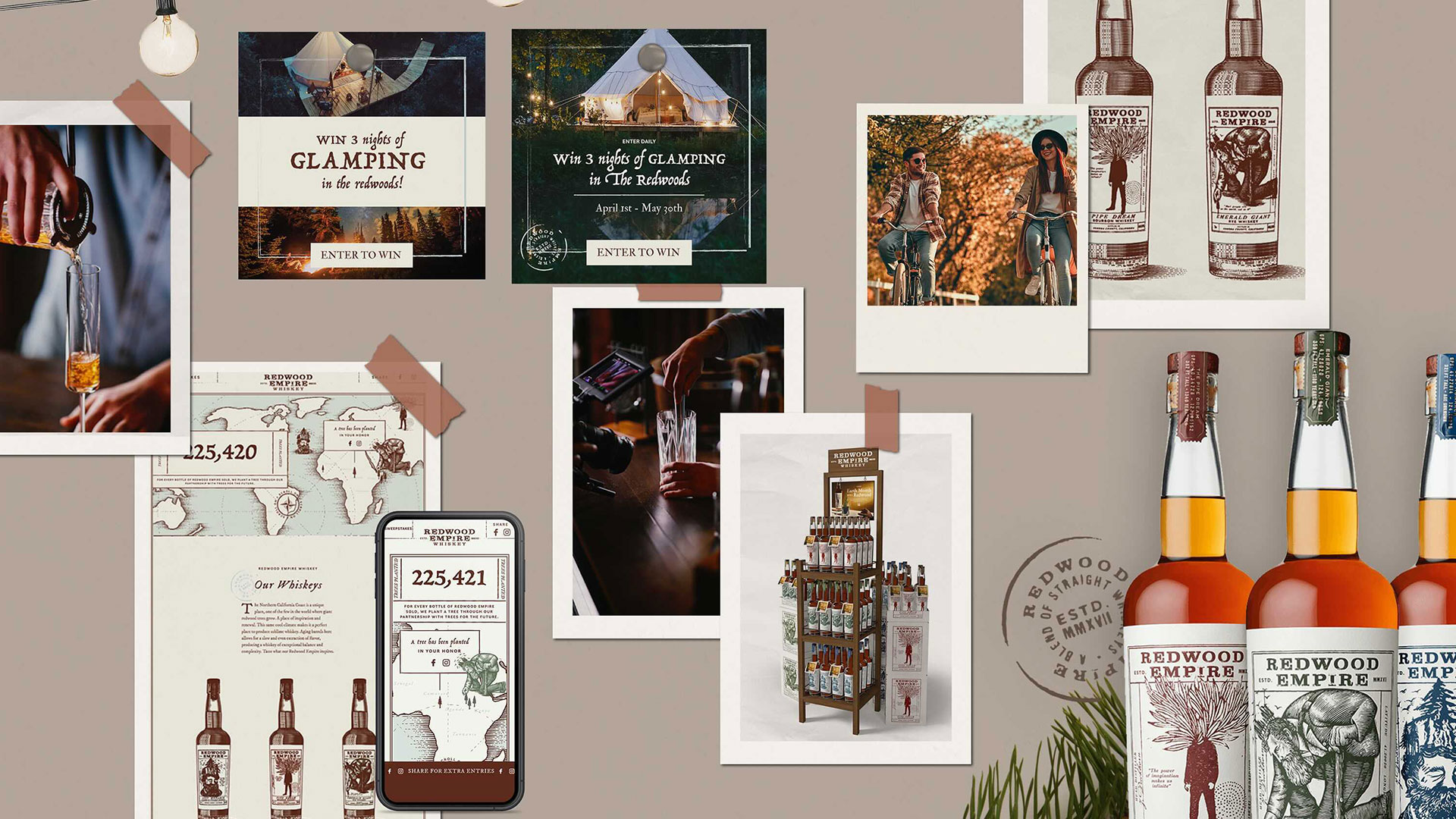 What Is 360° Marketing?
When it comes to strategizing and executing a 360° marketing campaign, where do you begin? Or better yet, what the heck does 360° marketing even mean? In an industry already laden with terminology, do we really need one more buzzword? Maybe it's fair to say we're all suffering from marketing jargon fatigue, but in a world where sales equals success, the results of a well executed 360° campaign speak for themselves.
360° marketing is an integrated campaign with one cohesive message spread across multiple touchpoints of customer contact. That may not sound much different from your ongoing efforts, however a 360° campaign drives one unified message in support of a core objective and is built on a foundational strategy that encompasses a variety of channels to reach specific audience segments.
In this blog, we'll show you how we strategized and executed a 360° marketing campaign for Purple Brands', Redwood Empire Whiskey, illustrate why it generated real results—and more importantly ROI—and give you actionable insights into how to build your own successful 360° campaign.
Key Components of 360° Marketing
The ultimate goal of 360° strategies is to create marketing campaigns that reach your target audience, but are compelling to the audience segments receiving them. There's no one-size-fits-all formula for a successful 360° campaign, however, there are several key components that can be building blocks for success. These are your website, content marketing and on-page SEO, social media, email, offline marketing such as TV, radio, billboards, podcasts, retail and POS materials, and events.
When To Employ 360° Marketing Tactics
360° marketing can work to support any brand initiative, however 360° campaigns are particularly useful for rebranding, launching new products, reviving products that are underperforming, and seasonal campaigns. Redwood Empire Whiskey's Earth Month campaign, Earth Month With A Redwood, is a great example of when a 360° marketing campaign was useful in building both business and brand with the foundation of a singular message.
Starting With A Single Message
The use of 360° tactics allowed Affinity Creative Group to communicate Redwood Empire's unique selling proposition and emphasize their points of differentiation within the distilled spirits industry by promoting their Earth Month campaign, which spanned digital and physical touchpoints to support a comprehensive campaign strategy, creating retail and point-of-sale materials, a dedicated Earth Month microsite, and a 30-day social media campaign.
When Purple Brands, Redwood Empire's parent company approached Affinity to launch Earth Month With A Redwood, there were three core objectives:
1. Expand awareness about the brand
2. Increase their social followers and email subscribers
3. Attract new customers and grow their share of the market
Developing A 360° Strategy
With these goals top of mind, Affinity a comprehensive 360° strategy for Redwood Empire Whiskey that utilized digital and traditional marketing tactics which included promoting a glamping sweepstakes, organic and paid social campaigns, influencer marketing, a dedicated email campaign, as well as retail and POS materials including display cases, bottle neckers, and QR codes. All of these individual elements were constructed around the Earth Month With A Redwood messaging, with the goal of reaching new prospects and converting those prospects into followers and ultimately customers.
Glamping Sweepstakes
We worked with Purple Brands to develop sweepstakes with a grand prize of an all-inclusive luxury glamping getaway for two people in Northern California's Redwood Empire. The sweepstakes included airfare for two, luxury glamping accommodations for 3 nights, a car rental, $250 spending money, and a VIP tour of the Redwood Empire distillery. Once we'd determined a prize that aligned with the brand's values, we further defined the official rules of the sweepstakes that adhered to local and federal regulations, and instituted a third party sweepstakes software to help us manage the entrants and incentivize virality by allowing for multiple bonus entries awarded based on specific sharing actions.
Content Marketing
The Affinity digital team also produced original video and photography to support the Earth Month campaign, as well as custom graphics with Earth Month-themed cocktails and virtual mixologist demonstrations, exclusive whiskey cocktail recipes, distillery team features, a distilling 101 educational series, and tips for sustainable living practices.
Organic Social Media
Organic social media was focused around the Earth Day theme and Redwood Empire's dedication to sustainable practices and love for the great outdoors and incorporated the various series developed for content marketing. In addition, organic social efforts included the creation of a 30-day content calendar, content buckets including holidays such as Arbor Day, and the birthday of esteemed naturalist John Muir, sustainability tips, and Redwood Empire's ongoing initiative with Trees For The Future, an organization responsible for planting over 200 million trees since 1989.
Paid Social Media
Social advertisements created using Ads Manager were centered around the overarching objective of expanding awareness of the brand, building the social audiences on Facebook and Instagram, and driving entries into the Earth Month sweepstakes. With this in mind, we created audience segments based on those likely to be interested in glamping, the outdoors, active lifestyles, nature, and of course, whiskey and other distilled beverages. Campaigns drove traffic to the Earth Month With A Redwood microsite to generate sweepstakes entries, as well as to the Facebook and Instagram pages to generate new fans and followers.
Influencer Marketing
A robust influencer marketing campaign was initiated, with the identification of 20 top whiskey influencers in the United States. Affinity created the strategy, and managed the execution which included identification, outreach, and management of this group, which included providing influencers with key message points, graphics, imagery, samples, and ongoing support throughout the month.
Email Campaign
Redwood Empire wanted to develop email marketing as part of their overall marketing strategy, but didn't have much of a subscriber list to start with. Because the sweepstakes entrants supplied their email addresses, we also provided them with the opportunity to opt-in to receive emails from the brand on an ongoing basis through the sweepstakes entry form. We developed a series of campaign specific emails to support Earth Month With A Redwood, further foster the relationships being built on the social channels, and generate new sales.
Retail & POS Materials
Finally, to bring the Earth Month campaign offline, we designed and manufactured in-store retail displays that promoted the sweepstakes, the brand's partnership with Trees For The Future with "Buy One Plant One Tree," messaging, and QR codes that directed to the microsite.
360° Campaign Results
The Earth Month With A Redwood campaign was a huge success and to date, has exceeded all goals outlined at the onset. In addition to an overall spike in product sales, Affinity was able to generate almost 17,000 entrants into the sweepstakes, grow the email subscriber list by 5,356%, grow the Facebook audience by over 175% and the Instagram audience by over 36%. Additionally, we generated over 2.5M impressions, over 42,000 engagements, and over 24,000 link clicks on social media for Redwood Empire Whiskey.
As with any marketing initiative, the success of this 360° campaign relied heavily on a strong strategy and careful attention to metrics and analytics. Outlining core objectives and benchmarks for success allowed us to continually optimize our ongoing tactics throughout the process and adapt to meet an evolving audience with both organic content, advertisements, and emails that were aligned with their interests, reaching the core objectives and resulting in real ROI for Redwood Empire Whiskey.
At the onset of the Earth Month Campaign, the client provided us with measurable KPIs. Among these were benchmarks for new follower/fan acquisition, new email subscriber acquisition, social reach, and sweepstakes entries. As we've demonstrated, we exceeded every goal while only spending half of the advertising budget. We know that numbers don't lie, but what do these numbers mean and what do they really show?
It's All About Conversion
A conversion occurs when a visitor to your website completes a desired goal, such as entering a sweepstakes, making a purchase, or subscribing to an email newsletter. The percentage of total visitors that convert is called the conversion rate.
Sweepstakes Conversions
We generated over 2.5M impressions on social media throughout the duration of the campaign. Of the audience reached, 24,605 clicked on our content and of those that clicked, 18,892 converted by entering the sweepstakes. That's a 76.7% conversion rate.
Email Conversions
We generated over 18,892 sweepstakes entrants. Of those unique entries, 8,812 converted by subscribing to our client's email newsletter. That's a 46.6% conversion rate.
Social Conversions
We generated over 24,605 clicks on our content and of those clicked, 18,299 converted by becoming a fan or follower of either Facebook or Instagram. That's a 74.3% conversion rate.
Earlier we asked: What do these numbers mean?
If you take the fact that we exceeded every goal and couple that with the fact that the average conversion rate for Facebook/Instagram ads across all industries is 9.11%. . .it means these numbers aren't just great. They're almost unheard of.
Need Help With Your 360° Marketing Campaign?
If you'd like help strategizing and executing on a 360° marketing initiative, Affinity Creative Group's award-winning team of marketing experts can help you create campaigns that deliver real results and real ROI. Please get in touch to learn about how 360° marketing can help grow your brand and your business!
About the Author: Justin Witt is Digital Media Director at Affinity Creative Group, Mare Island, CA. Justin has spent his career designing and developing brand-centric, strategic and engaging digital and media for clients across California's Wine Country. With a passion for connecting brands with their audiences at the emotional level, Justin enjoys inspiring the imagination of clients and their consumers through beautiful design and impactful marketing strategies and experiences.